` I have several interesting drafts, and have been too absent-minded to finish any of them yet.... Although, today I read an E-skeptic that got me rolling on the floor laughing! Apparently, a man named Jon-Erik Beckjord took a photo of a campsite and when it was developed he could make out a blob that he thought looked like... a bigfoot!!

` I'm sorry, but I cannot see anything that really looks like one, and my sufficiently coherent (I hope!) analysis is below, complete with my illustration. But first, the article:
Bigfoot Returns!

The press release which follows this introduction was sent to me recently by Jon-Erik Beckjord, a long-time Bigfoot hunter. It came attached with four photographs, which we present here untouched, along with the release accompanying them. Maybe I'm just a lousy pattern-seeking primate, but I just can't see Bigfoot at all, even when I squint and use my imagination.

As an interesting back story to this, I emailed Beckjord to make sure it was okay to post his photographs. He agreed that it was fine, but insisted that I call him first, which I did. It was a most enlightening conversation. When I explained that, try as I may, I could not for the life of me see the creature in the phone, he insisted that everyone he showed these photos to without hesitation said things like "what's that monkey doing there?"


` I then asked him, "Why are there no Bigfoot bodies?" That is, if you want to name a new species, you have to actually present to the scientific community a type specimen. Beckjord's answer was most interesting: turns out that Bigfoot is not a primate evolved here on Earth, but is in fact a being from a parallel universe who pops in and out of our universe through worm holes.


` He referenced Einstein and Michio Kaku for this particular interpretation of quantum physics, and went on to explain that the worm hole/parallel universe theory also explains why we have no crashed UFOs, no alien bodies, along with ghost sightings, visitations from lost loved ones, and the like. So, in conclusion, Beckjord said that we do not now have—and never will have—physical evidence of Bigfoot.

The text follows and all the photos can be found on Beckjord's website. I don't think they need any further commentary.
` So, I went to the website to check it out, and I can't help but agree with Shermer - "What bigfoot?"
`
Photo 1:
A picture of a campsite including a car with an ambiguous, blurry piece of scenery just on the other side that appears to be a rotten tree stump.
`
Photos 2 and 3:
Clearly displays a blurry blob that looks more like a gnarled tree stump than a bigfoot.
It is so bizarrely deformed that it could not even be a bigfoot, a human in a costume or any reasonable-looking mock-up:
` For example, it has an inflated shoulder -
with pieces of moss apparently growing on it!
- and most of its forearm would appear to be either missing or badly mangled and bent or something. Even so, judging from the 'shoulder' to the unrealistically round 'elbow', the arm would appear to be very short.
` On the other hand, its 'torso' is extremely and quite disproportionately long (and twisted at an awkward angle) as signified by its 'male organ' being just visible over the hood of the car. Then, when you judge where the ground would be behind the car, you then realize that its legs would have to be much shorter than those of Ms. Pitts, who is also in the picture!
` In fact, using her and the car as a scale, the 'bigfoot's' head and torso is as long as Ms. Pitts is tall, though its legs are only about two feet long! Think about it: A seven or eight-foot tall humanoid creature with two-foot legs!? Come on!! (...Unless, of course, it was on its knees because it was crouching out of sight? But if that were so, wouldn't it be ducking also?)


` Click for a larger image:

`
Photo 4:
The 'head' looks a little like
Telly Monster
from Sesame Street, except brown with a white nose! (
And it appears to have two smaller pieces of moss!
) Whatever it is, it definitely does
not
look like the Patterson photo it is compared to because its 'cranium' is too small. (Any diligent bigfoot researcher knows that Bob Heironimus, the guy in the gorilla costume for the Patterson film, was wearing a disguised football helmet!)
` And why bother even comparing new bigfoot evidence to the Patterson film anyway? After all (as I've implied),
many of the hoaxers have come forth long ago
. Not only that, but the modern image of bigfoot was invented in 1957, during a publicity stunt in Hot Springs where people were encouraged to search for giants (civilized, talking human giants who wore clothes, mind you) called 'Sasquatch'.
` Come to think of it, this last photo particularly reminds me of the 'Face on Mars'. If you compare the image to the one on his website, you will see that they are so blurry they somewhat resemble each other! (Small forehead, ambiguous nose, broad, open mouth....)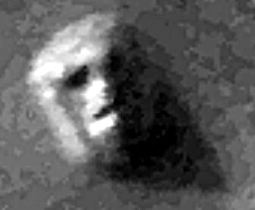 ` Some people have claimed they could see hair and teeth, even a woman's body under it, or they said that it looked like the Sphynx at Giza! ...And then several clearer photographs were produced, showing it to be an unremarkable mountain range with absolutely no hair, teeth, or anything that would make it look more face-like. In fact, it looks like nothing more than just a mountain:
` I'm willing to bet a hundred dollars that something similar would happen if someone went back to that campsite and took another photo. Think about it - nobody actually saw the 'Bigfoot' until Beckjord developed his photos! Being a staunch believer, it apparently never occurred to him that perhaps the reason why was because it was not there to begin with!
` Since the object in question looks like a tree stump (with patches of moss growing on it!) more than anything else, I am willing to bet that if they should go back to that campsite and take another picture, they would find that - like the Martian 'face' - it is a natural structure after all!
` ...
P.S.
; The fact that Beckjord mentioned that Jane Goodall believes in bigfoot (rather, she thinks Bigfoot is plausible and says she wishes it were true, but maybe it isn't), appears to be a credibility ploy along with all the other claims of scientists backing him. Evidently, Goodall - like most people - just doesn't know much about the history of bigfoot stories, amazing scientist though she is. If you'd like to enlighten yourself on the matter,
here is a good place to start
!